Bryan's Top Games: 2017 Edition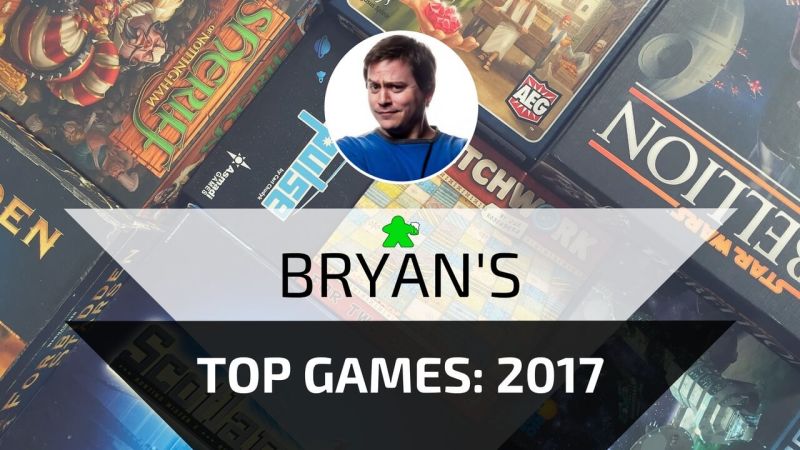 Author: Bryan
Published:
January 15, 2018
All of us here at the Pub made good use of our Board Game Ranking Engine again this year to create our individual lists which we combined into the Pub's Top 5 games for the year 2017.
This year marked a turn in some of my playing and collecting habits. I played with various groups regularly this year and decided I was going to play as many games other people owned to expand my experiences beyond my personal inclinations. I found I developed a deeper appreciation for games with simple mechanics as well as games that were designed earlier in the hobby that have never before been on my radar. That being said, I'm happy to see that some of these games show up in my rankings but even happier that many of my previously loved games still hold a high place on my shelf. So without further preamble…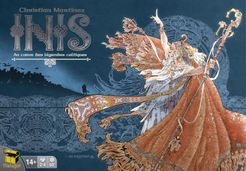 Honorable Mention: Inis
Inis happened to be one of my favorite drafting experienced to date. While the game does a lot of other "dudes-on-a-map" things I like, the drafting is so much fun and becomes chess-like in predicting opponents moves and setting up appropriate counters. The end-game tension builds as the game progresses and objectives are met by multiple players which provides for a tight finale to a fantastic game.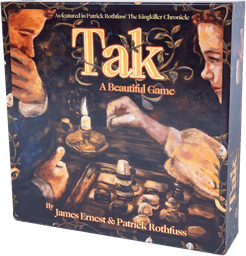 Honorable Mention: Tak
Tak was released early in 2017 and quickly became one of my favorite 2-player abstracts. I was originally brought in due to my love for the Kingkiller Chronicles but really started enjoying the game after I began to learn the potential strategic opportunities the game offered. The price is a bit steep and I hope that some versions become available that are more attractive at a good price, but the gameplay is simple and deep.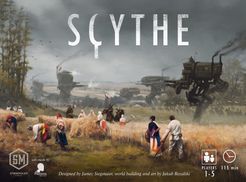 Honorable Mention: Scythe
Scythe was my #6 last year and I've gotten a lot of plays in 2017. The expansions to this game just keep sweetening the deal but even so it has dropped a bit on my list. But not because the game is getting stale. I've had a lot of plays this year because I continue to enjoy it, I get a sense of pride bringing it out, and I really enjoy introducing it to people who haven't played it before.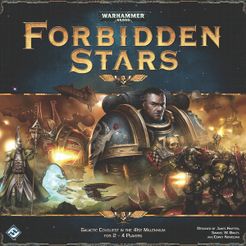 10. Forbidden Stars
Forbidden Stars didn't see the light of day in 2017. It's rare that a top 10 game doesn't get played in a year… but here we are. This game actually went up on my list from last year, probably because I really really really want to play it again. The combat mechanic to this game is supreme – while many games rely on a simple play-resolution, Forbidden Stars ramps each encounter up over 3 rounds which have little mini-arcs that feel like they tell a story. It's my favorite combat in any game ever, and that's just one aspect of the game.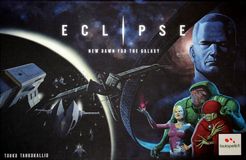 9. Eclipse
Eclipse really deserves a higher place on this list. I suspect it's only coming in at #9 due to how little time I've spent with it. We've talked about the grand hybrids that bring euro/thematic elements together and Eclipse must be a front runner for many designs that have come later. I really enjoyed playing a game that felt more raw in earlier designs but still something that was tight and intuitive. The scope of the game often kept me at bay in the past but it's much simpler to play and has much less turn management than I assumed. I suspect to watch this game move up year to year.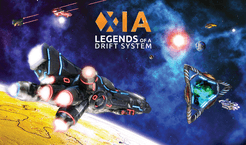 8. Xia
Xia has enjoyed a place on my top 10 since it came out in 2014. While it has gone down from last year's #4, the expansion released earlier this year, Embers of a Forsaken Star, polished off the rough edges presented by the base game (which I've never had reservations against anyway). Xia continues to be a fantastic story every time we open the box and I'm looking forward to spending time in the drift system in 2018.
7. Skull
It's about time this one hit my top 10. Games I break out for the social side of gaming don't usually hit my high ranks, but this one has always been a favorite and it's time it got some recognition. It's probably on the list now due to some crazy evenings playing this year. The game usually presents a riot at such a low barrier of entry for gamers and non-gamers alike. This is one that you should come hang out and play with us.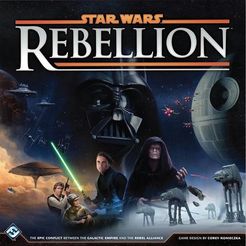 6. Star Wars Rebellion
I don't know if I can improve on anything you may have already heard about Star Wars: Rebellion. It came up from #10 from last year and I'm still waiting to break out the expansion because I just want to spend more time exploring what the base game has to offer. The story telling potential is such a delight and getting to do that in a universe I have grown up loving is one of my favorite ways to spend a few hours with a good friend.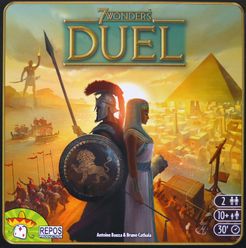 5. 7 Wonders Duel
7 Wonders Duel is not a game I thought I'd ever enjoy, let alone hit a top 10. Shuck brought it over last New Years and I reluctantly agreed to play it in the spirit of trying new things, sure I wouldn't enjoy it due to my experiences with 7 Wonders prime. Boy was I wrong. I have since enjoyed bringing it out anytime the 2-player opportunity presents itself. I've been delighted to see others who also share my aversion to 7 Wonders prime enjoy this game. I guess I owe one to Shuck (maybe he won't notice).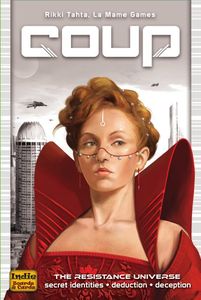 4. Coup
Coup went down a slot this year from #3 from last year. To be honest, this was another one I was surprised to see still ranked so high on my list but that only speaks to how much impact this game has had on me. I've raved about Coup for the last couple of years so I'll save you some of that if you want to go look up my review. I always recommend this game for a great bluffing experience with a low player count and quick game turn-a-rounds. My brain always runs on all cylinders when I'm working on manipulating the table during Coup and groups are rewarded with multiple plays in a single night as players learn opponents from game to game (or change strategies from game to game).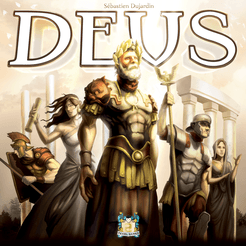 3. Deus
Deus has always been a Pub favorite and I thought it had been on my top 10 before, but this is the first time for me. That feels odd since I've always loved this game. I can say this year did bring a new appreciation for Deus as we explored the expansion together in a series of games that got to test out the different modules. I still love the base game, though, and it's #3 spot this year is based on the original game before expansions (of which some of it just sweetens the deal).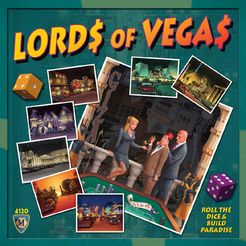 2. Lords of Vegas
Up from #5 last year, I've had such a blast with this game. I don't know of a game that implements theme into its mechanics as well as Lords of Vegas. We often talk about theme integration but many themes don't lend themselves to a one-to-one real world counterpart to in-game action. It helps that Lords of Vegas utilizes high stakes gambling, odds-driven dice rolling, and simple card counts to control rewards and influence in the game. But along with the property/economic theme I feel the game shines best as an area control game. What's more, there are multiple paths to gaining control of contested areas, each with its own risk/reward structure. Lords of Vegas has never left my top 10 (and I finally won a game of it this last year).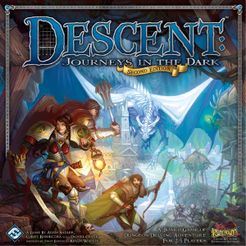 1. Descent Journeys in the Dark Second Edition
This year has been marked by fantastic dungeon crawlers hitting the market. In a genre that got me into gaming, I'll have to admit I haven't gotten around to Gloomhaven or Sword and Sorcery, yet. I can't speak to those but I suspect that they are fantastic and I anticipate trying them out. As to Descent, I still play this game consistently (at least once a month) and believe this is a strong game in a genre that continues to get more traction. I'm well aware of how many feel this game has been surpassed, but the scope paired with the nostalgic variety of dungeon crawling hits the right notes for me. As crawlers become more and more like their role playing and video game counterparts, I'm happy to spend time in a game that heralds back to a time before such emphasis on simulation.
Posted in:
About the Author: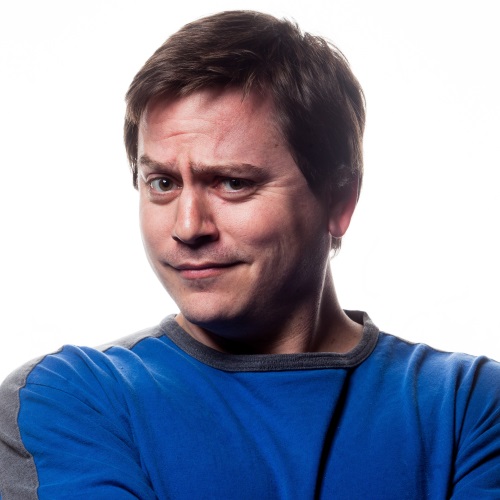 Bryan | Video Guru
My grandfather was a gamer and spent hours introducing me to great games at a young age. Through the years of LARPing and role playing, my love for the boards, cards, and minis never dwindled. Now I spend my free time filming videos and finding excuses to play the next game.
Favorite Games: Pente, Survive, Descent
Favorite Mechanisms: Abstract, Area Movement
Favorite Vintage Game: Win, Place, and Show