Foam Core: Istanbul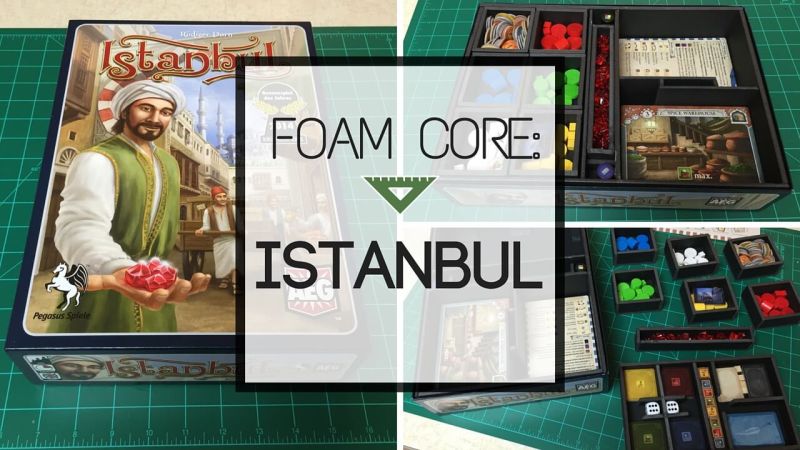 Author: Brian
Published:
April 1, 2015
I had no clue when I started doing these foam core inserts that they would so much FUN! Seriously. I love the spacial puzzle they offer not to mention the work-with-your-hands satisfaction that comes with creating something. There is something about planning, measuring, cutting, and gluing that is really satisfying. It also helps that it is directly associated with the board game hobby I love. But this will be my last for a little while. I really need to get back to my game designs.
This brings us to Istanbul. My goals were the same as they were with Dead of Winter: great storage with functionality for both set up and play. I came across one design on BGG (this BGG user does great inserts) that struck a chord with me so I started with that idea and iterated on it. I feel like it turned out great (despite a small math error). I will be able to distribute pieces to each player without sorting through anything and all of the market and mosque tiles for the game board are separated and easy to get to. One thing I might change to make it feel more complete is to boost the board, player aid, and cart tiles up so they are flush with the top of the box. Just for aesthetic purposes.
So here it is.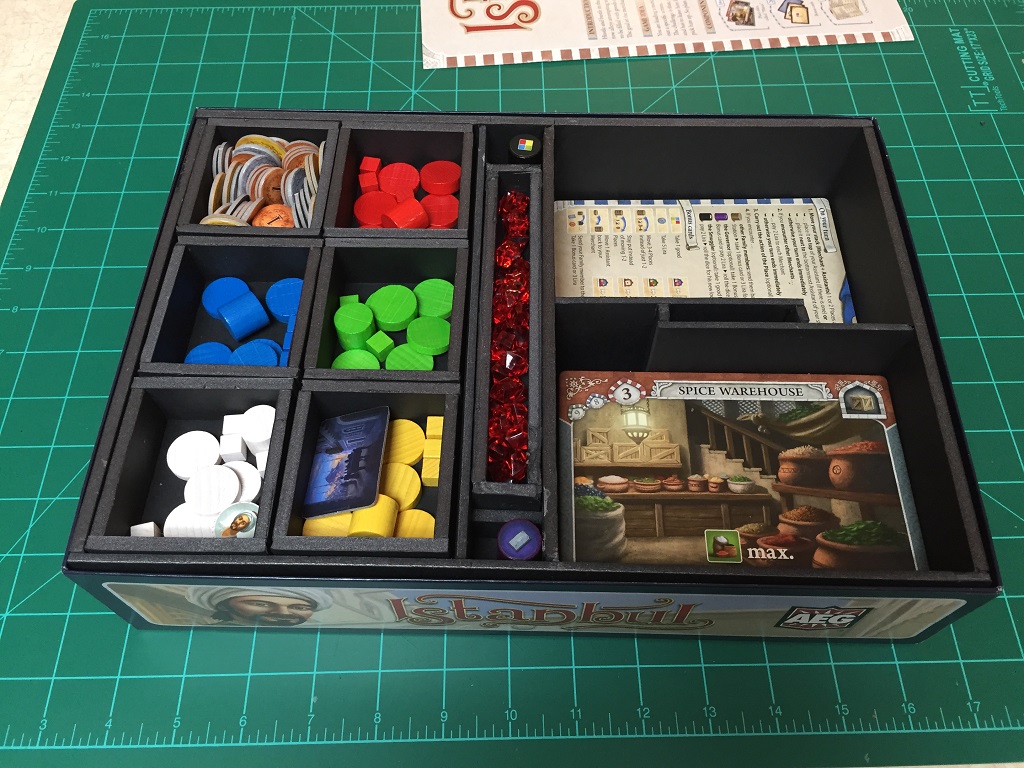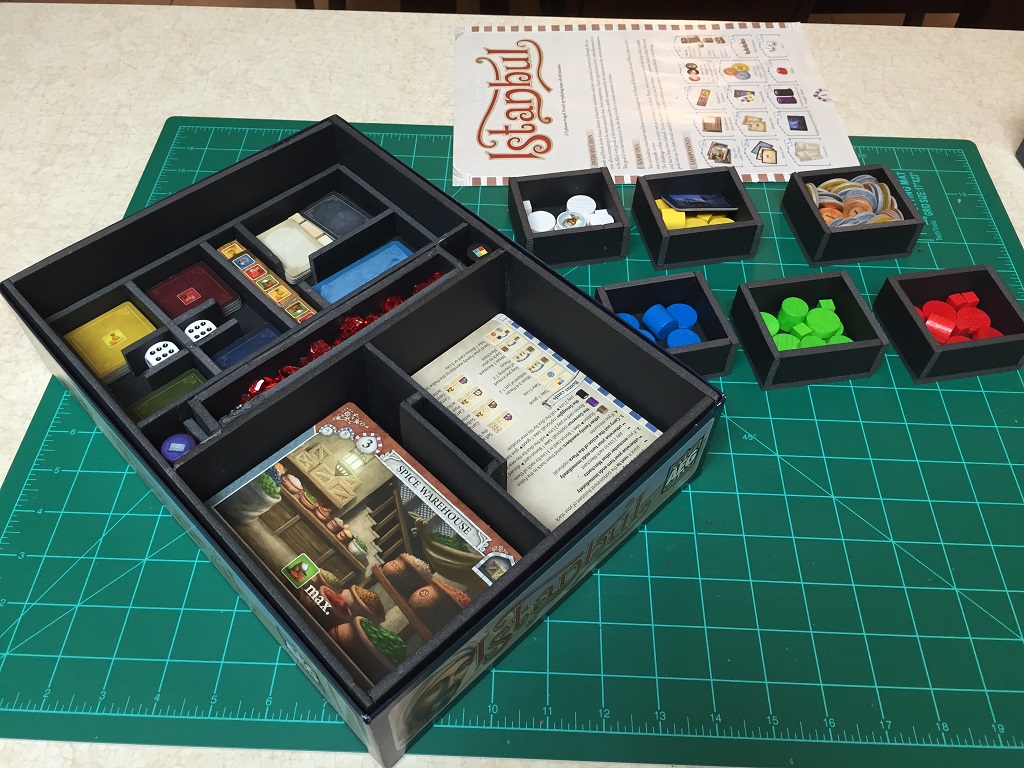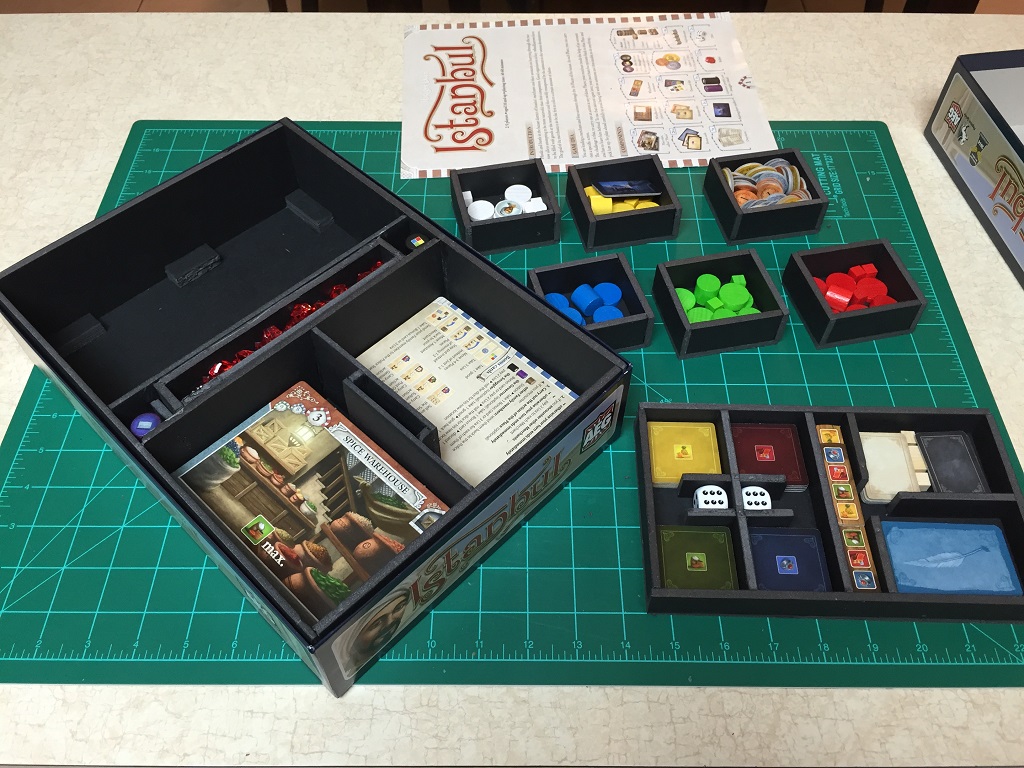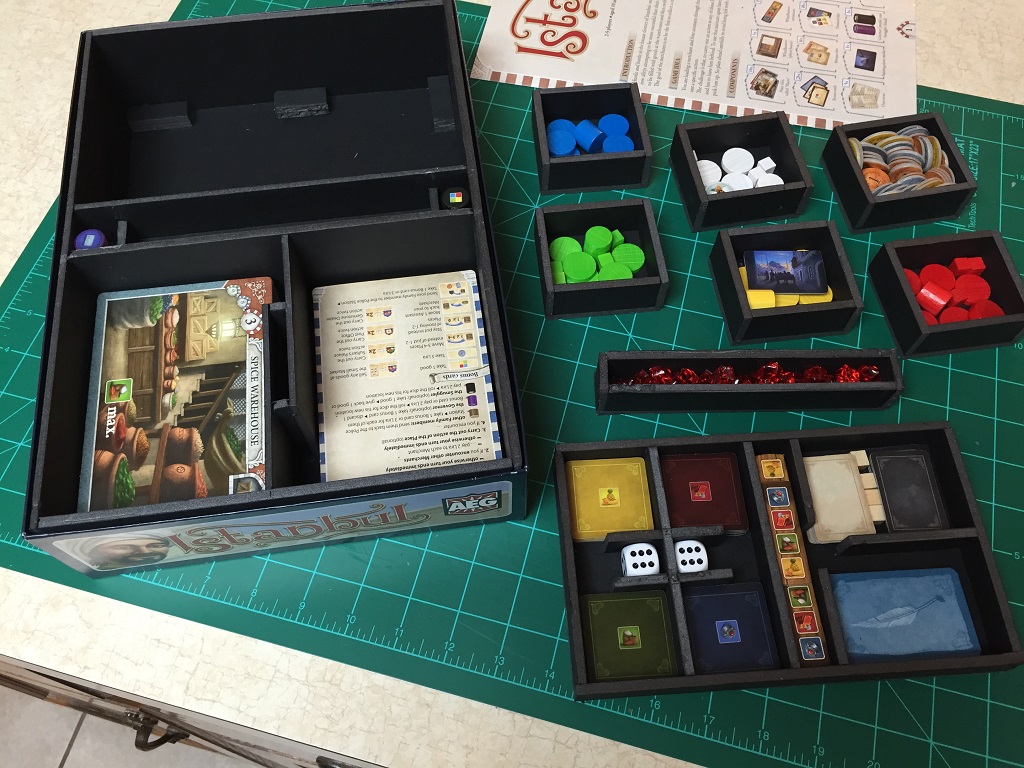 Lessons Learned:
Math is important. I was in a hurry to calculate the height split between my player bit trays and my tiles/cards tray and I shorted myself by 10mm. Fortunately, I didn't need it and I just shimmed them up so they fit. But it still bothers me that I missed that 10mm. So, math thrice, measure twice, cut once.
If you aren't sure how things are going to fit and don't want to commit to gluing yet, put it together with pins first. This worked great for laying out the tiles/cards tray. I was even able to find a neat little niche for the dice.
Working with boxes that aren't going to be completely full is interesting. With Imperial Assault and Dead of Winter, I had very little wiggle room. But with Istanbul I had to figure out what to do with a bit of dead space. The board, player aid, and cart tiles are a great example. I'd like these to sit flush with the box lid and I'll probably do that.
Posted in:
About the Author: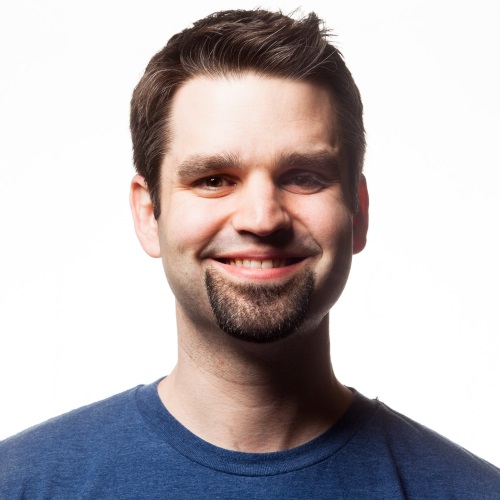 Brian | Webmaster
There are few things in life that I enjoy more than gathering around a table with people to make new shared memories through the interactions board games create. I have been playing board games my whole life, but I have been focused on them as a hobby for the past 15+ years. Board games offer a unique medium for social interaction and fun. I really look forward to playing these games with my kids as a way to interact and stay connected with them. In the last several years, I have delved into board game design and found something that really satisfies my need to create in a way nothing else has.
Favorite Games: Star Wars Rebellion, Carcassonne, 4X games, Legacy games
Favorite Mechanisms: Worker Placement, Resource/Financial Markets, Deck Building
Childhood Favorites: Clue: The Great Museum Caper, The Omega Virus, Mystery Mansion